The Mobile Trend
Mobile Is No Longer A Nice-To-Have Capability, It's A Necessity

Google has done numerous mobile studies and has found that over a third of local searches are on mobile phones(that was 2012). They also surveyed those users and found that there are predominantly 3 things they are looking for in a mobile search and they want them ASAP.
1. A click-able phone number to reach the business.
2. The hours of the business.
3. Directions link with maps so they can find the business.
Why Your Business Needs To Get A Mobile friendly Website?



1. Mobile friendly websites are designed to load faster than a regular website. The fact their websites fits on a mobile screen is irrelevant. No business would want to serve their regular websites to mobile users because it is going to load slowly and their visitors will be frustrated.
2. It doesn't matter if the mobile screen fits their regular websites on it. People will still need to zoom in, out, scroll up,down, left and right to see or do anything properly on their non-optimized site.A well designed mobile site should automatically shrink and stretch to fit the screen and should not require any zooming. You should also only ever need to scroll in one direction (up and down).
3. The information displayed on a mobile optimized website should be prioritized for the types of things a mobile user is going to be looking for – more often than not it will be different to the information a user on a PC is looking for. A mobile site will also include things like Click to Call, Click for Driving Directions buttons and NOT include things that all mobile devices do not support or take centuries to load (like iframes, heavy loading images and videos etc).
"It's All About The User Experience And Optimizing Content For Specific Devices"
"The user experience for mobile interaction is fundamentally different than it is for desktop and laptop PCs."
The simple fact is that if someone goes to their website on a mobile device and it takes too long to load or it has a very poor user experience where people need to zoom in and out and scroll all over the place, they will go elsewhere… that means their competitors win and they lose.
In this day and age consumers want instant gratification. Mobile customers are different to your standard web browsers. They are people usually looking for a specific piece of information and if you don't make it easy for them to find that information, they will go elsewhere without even a second thought.
Every business needs an mobile friendly website to compliment their existing website and to not isolate potential customers or clients that are visiting from their mobile phones
So Why You
Should Hire Me To Do Your Mobile Website?
Please check the websites below live by simply scanning the qr codes within the images with your phone.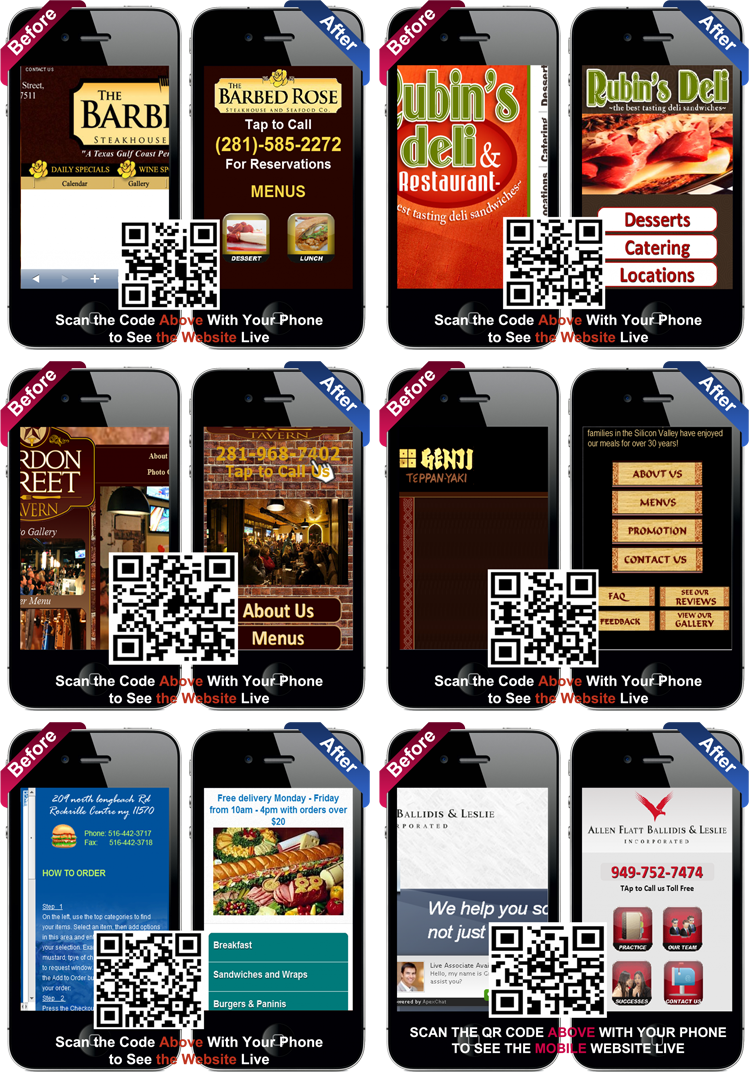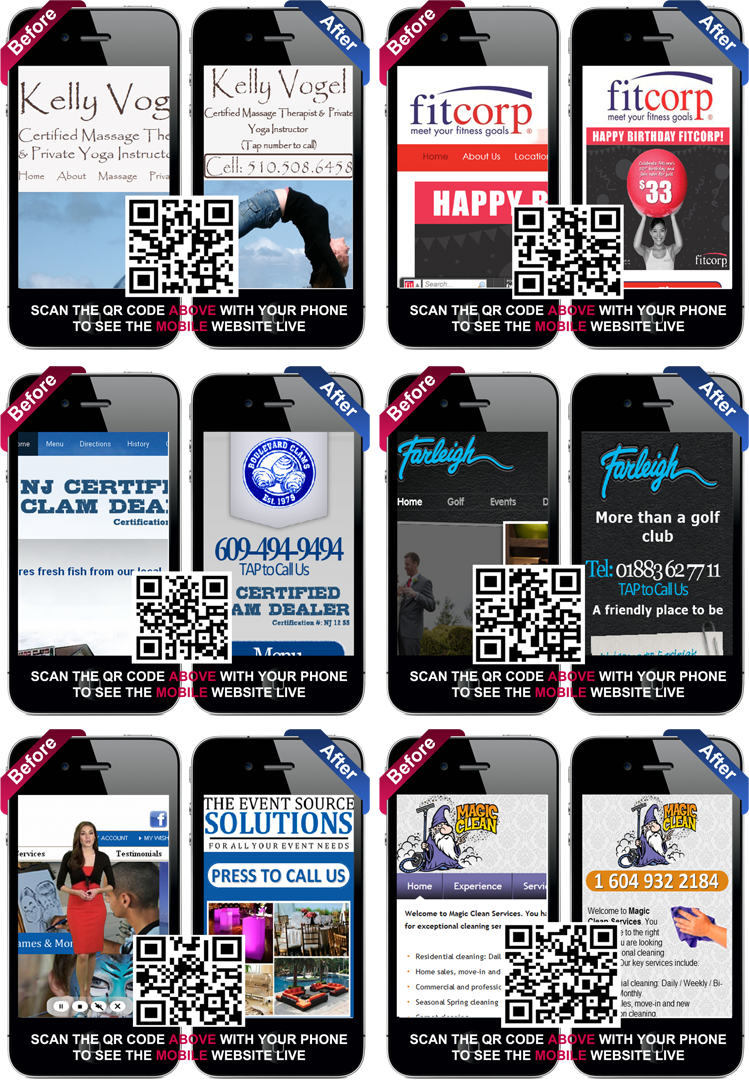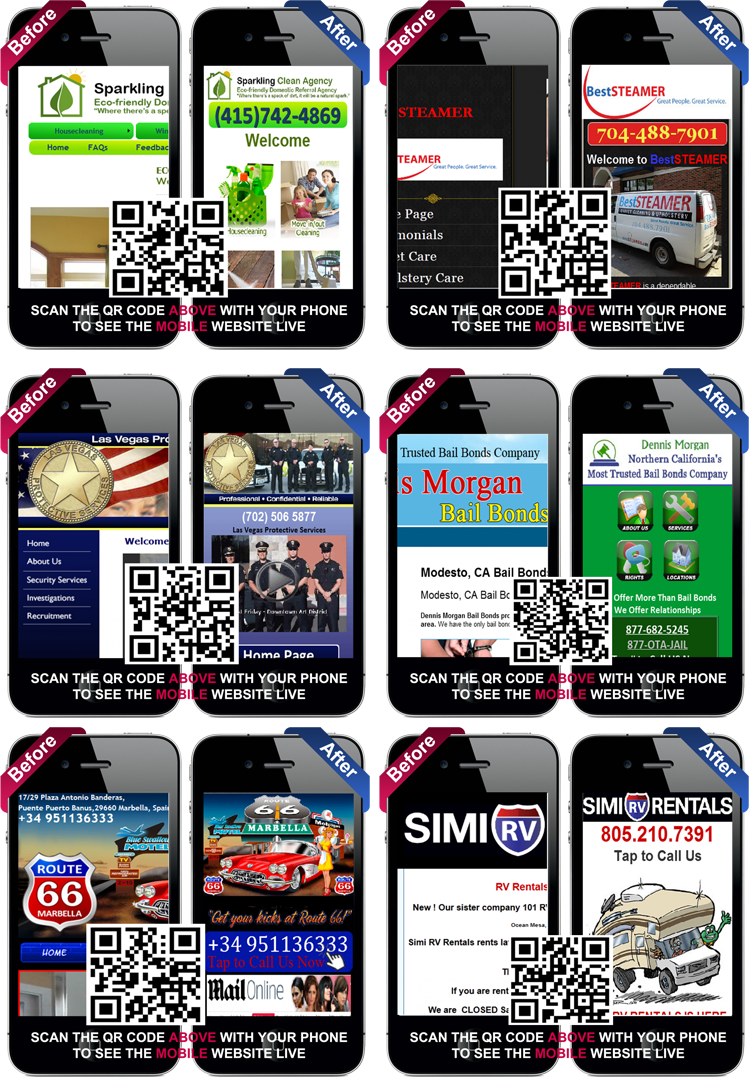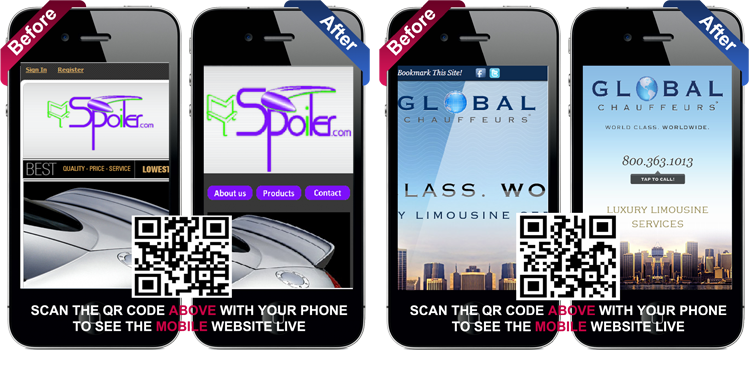 * YOU WON'T FIND BETTER QUALITY
OUT THERE *
What Do You Really Get?
A team of fully dedicated mobile designers working for you, including myself providing the High Quality Designs that my clients are used to.We can do different types of Mobile Friendly Website as below:
Regular Niches Websites(doctors, lawyers, plumbers, restaurants etc.)
I will do a max 8 pages mobile websites, that will fit any display(no matter if it's iPhone, Blackberry, Samsung or any other phone) and I will take care of everything:
– Tap to Call buttons
– Mobile Optimized Graphics ( logo, headers, image galleries etc.)
– Mobile optimized Videos
– Forms (contact, newsletter etc.)
– Social Media
– Maps and Directions
– OnSite SEO if needed (title, description, meta tags)
– Mobile Sitemap – to submit to the search engine
– Mobile Redirection Installation if needed
– QR codes to access to new mobile website and to use it in your client advertising.
–

FREE

Mobile Website installation on your server if necessary (i will need your hosting cpanel/ftp details in order to do this).
e-Commerce Mobile Websites
These types of websites require 1 site script license for each project, a lot of customization and a lot work.The prices are a little higher than normal because of the work involved.
Contact me for further details and examples.
Real Estate Agents Mobile Websites
Customized to your needs, with your own admin panel and with a very low monthly fee for accessing the system.Very easy to use back-end admin panel. Contact me for more details and for examples.
All mobile websites can be hosted on m.company.com subdomain, .mobi domain or Domain.com/mobile or on my server